Bumrush
(2011)
Actors
Kid :
Emmanuel Auger
Papy :
Pat Lemaire
Catherine :
Dara Lowe
Loosecanon :
Paul Dumas Frappier ( aka Bad News Brown )

Language
: French , English , Creole , Italian. Subtitles mandatory unless you speak those 4 languages.
Story
: In the wake of multiple police raid against the mafia and the bikers club , the Montreal criminal scene is left in a power vacuum. Street gangs , used to be the puppets for the big boys , see an opportunity to rise to power. While the I B 11 and the N.M.B are getting in a turf war , a strip-club called The Kingdom and its bouncers are stuck in the crossfire because of its long standing neutral policy.
Opinion
: The final movie in Michel Jetté's crime trilogy (
Hochelaga
,
Histoire de Pen
) tackles the subject of order in the criminal underworld as a necessary evil because there will always be new players. While the premise is exciting, the execution is less than stellar. The main problem is the evident shoe-string budget because everything looks amateur. From the cardboard acting to the rough editing , the difficulty to make a genre movie in Quebec ,where family dramas and slapstick comedies reign supreme, is highlighted 100 times. The cinematography felt a bit like The Wire , trying to keep it at street level without the use of big explosions or cgi. Even Loosecannon reminded me of Omar but instead of whistling , he plays the harmonica. Don't get me wrong , this is not The Wire because the lack of funding prevents Michel Jetté from creating a real vision of the turf wars. For starter , The Kingdom is supposed to be a big strip-club but beside the bouncers and the gang members , there's barely never more than 2 patrons in the place. The characters are not well-developed and the dialogue is poor ( everyone 4th word is a swear ) . The bouncers are supposed to be the good guy but I never cared much for them . Also , while The Wire was written by someone who witnessed it first hand , Bumrush feels more like what an outsider imagine the reality of the gangs is. I will give some points to Michel Jetté for at least trying to make a different movie , for including a great local hip-hop soundtrack and for using non-professional actors as extra. The few action scenes are great.
Trivia
:
-Dara Lowe who plays Catherine is a real life bouncer
-The gangbang girl is a real porn actress named Vyxen Vandal
-Paul Dumas Frappier was better known locally as Bad News Brown. He was a rising hip-hop star who made his name playing in the subway in Montreal. Sadly he got killed before the movie hit the theater.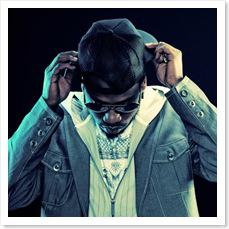 R.I.P. Bad News Brown
The movie had great potential but felt more like an unfinished product. Too bad since Michel Jetté first 2 films were much much better.
5.5/10
Edit : Red Band Trailer
HERE
... sorry didnt find an english subtitled one.