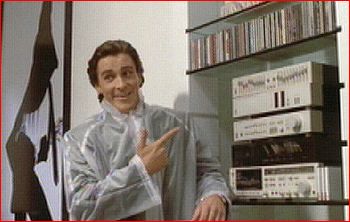 American Psycho
I made a post about this movie earlier in the day and I couldn't stop thinking about it, so I watched it and felt compelled to spill my guts on it. I searched the forums and didn't find any other reviews for this movie, so pardon me if I missed it.
This is definitely one of my favorite movies ever made and I consider it to be one of the most underrated classics of all time. I (hope) that in 20-30 years, people can look back upon this and see how perfectly it reflected the worlds growing materialism not only in the 80s but also when it came out in the new millennium.
Every shot in this movie is perfectly placed in showing us this haunting reality that we may or may not have slipped into by accident. Christian Bale gives the performance of a lifetime (and frankly, Schmoes, hasn't come close to matching it since) in inhabiting what could be described as all of us looking to act out in ANY capacity. The film (book) mixes this harsh reality by placing it in a Wall Street setting and prioritizing looks, apartment locations, restaurant reservations, as the most vital aspects to these peoples happiness. Every line is dripping with sincerity as these men ponder about things as intricate as who has the better business card that you can't help but laugh out loud at what you're witnessing.
As previously mentioned, Bale gives a knock-out performance as a man so fed up with his surroundings that can't even identify him in a crowd of co-workers that he resorts to the most extreme indulgences one could imagine. He gets so caught up in his anger that he does everything in his power to be caught and locked up, but nothing he does seems to work. His confliction with that reality is mesmerizing, he is truly a terror to watch.
The directing in this movie also bears mentioning, as Mary Harron does such a phenomenal job of juggling reality and fantasy in this film that when it first came out it confused critics and audiences alike, thus earning it the somewhat stained reputation it has today. The intense close ups, Bale's spot on narration, the pace, the editing and experimenting with Willem Dafoe's character, everything flows as it should in such a black comedy.
Many have questioned the ending, but to me it's one of the most poignant and haunting endings in film.
***SPOILERS****
Starting from Bateman's going to Paul Allen's place to hide the evidence, only to find it cleaned and emptied and going until the final shot
***END SPOILERS****
It only serves to hammer home the point the movie sets out to make from the opening scene: what matters to society is money, status, and looks. Everything else is just pushed under the rug.