Here's the link to the published version of my review in my column at The Richmond Examiner:
http://www.examiner.com/movie-in-ric...ld-of-arrietty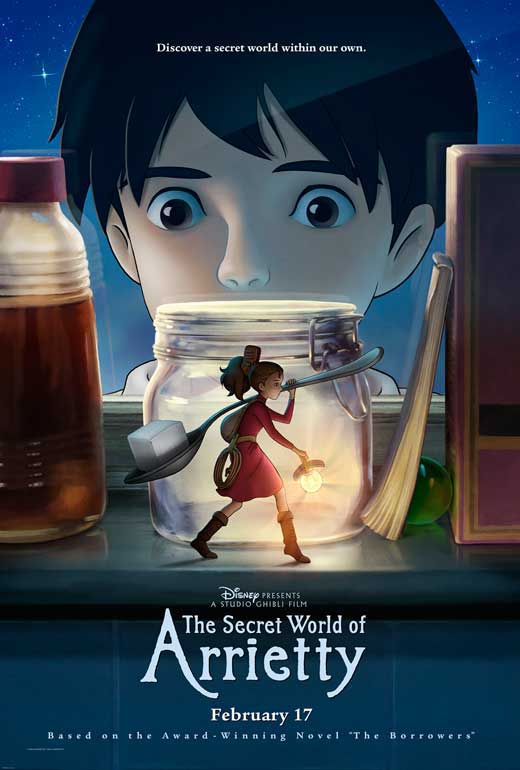 http://www.examiner.com/movie-in-ric...ld-of-arrietty
The Secret World of Arrietty (2012)
Studio Ghibli has given us some of the greatest animated films of the past 30 years including several collaborations with master animator Hayao Miyazaki such as "My Neighbor Totoro," "Princess Mononoke," and "Spirited Away." "The Secret World of Arrietty" is a return to the land of imagination that is so often the basis for these beautiful films that continually show that animation can be so much more than just a cartoon.
Shawn (Voice of David Henrie), a sickly young boy, has come to live with his Aunt (Voice of Gracle Poletti) and their housekeeper, Hara (Voice of Carol Burnett), in a house in the country in order to get some rest before an operation. Living in this same house is a group of little people known as "Borrowers" because they borrow things from the family living there, things that they won't miss. This little family consists of Arrietty (Voice of Bridgit Mendler), a young girl who is just starting the process of borrowing, her mother (Voice of Amy Poehler), and father (Voice of Will Arnett).
There have been rumors going around Shawn's family of the little people living there, but on his first day there, he catches a glimpse of Arrietty. Later on, when Arrietty is on her first borrowing mission with her father, Shawn spots her again. The two of them eventually strike up a friendship despite her parents constantly telling her that they must not be seen or else they will have to find a new place to live. Meanwhile, Hara becomes suspicious that the rumors about the little people are true and upon accidentally discovering their home, she decides to do something about them.
"Arrietty" features a screenplay co-written by Miyazaki and the less-experienced Keiko Niwa (based on the book "The Borrowers" by Mary Norton), but with the former being a part of the project, you know you're going to be in for a good story. It is told rather well, giving us time to get to know the personalities of the main players so that when the relationship between Shawn and Arrietty slowly begins to form, the audience is actually able to connect with them. These characters may not be as particularly memorable as those we've seen in past films from this studio, but they are still engaging.
What also makes the film engaging is the same high-quality level of animation we've seen in past Ghibli releases. As mentioned earlier, the imagination of the filmmakers tends to run wild for these films, allowing them to create some of the most interesting locations ever used in animation. What's interesting about "Arrietty" are not the locations themselves, but the major difference in a seemingly normal location from a different point of view.
Take for instance Arrietty going on her first borrowing mission with her father. We watch as they navigate through the walls, using nails as steps and staples as ladders, and climbing cabinets and tables using hooks and ropes. There are also scenes of Arrietty interacting with large insects, running through tall grass, and trying to avoid being caught by an enormous cat. Seemingly normal locations like this have a whole new look when you see it through the eyes of someone only a few inches tall.
This project was brought together under the direction of Hiromasa Yonebayashi, a frequent collaborator of Miyazaki's on films like "Howl's Moving Castle" and "Ponyo." He has put together an interesting film here and has done surprisingly well given that it's his first attempt at directing. His 15 years of experience in the field of animation makes him a great choice to take on a project like this and with its critical and financial success (it's been around since 2010 and is just now making its way to US theaters), it seems he has a future in direction.
It's not quite on the level of some of the studio's other works, but "Arrietty" is still fascinating to watch for its beautiful animation, interesting characters, and the heartwarming relationship between Shawn and Arrietty. Like those other works, it's fun family entertainment that doesn't pander to one particular age group. They are made so that anyone of any age can enjoy them, which is merely another part of their magical storytelling. 3/4 stars.