5 things to expect from CinemaCon 2017! News, screenings, interviews & more
For the past two years I've ventured to the City of Sin for one of the coolest events put on by Hollywood; CinemaCon. This year, I'll be at it again and am bringing along a bigger crew to make sure we can get all the news that's fit to print out to the masses as fast and effectively as possible. And yes, have some fun along the way. Now, for those that don't know what CinemaCon is (or why it matters), here's a little refresher and explanation. Now in its sixth year, CinemaCon is the Official Convention of The National Association of Theatre Owners (NATO), which attracts attendees from all over the world, including theater owners, studios, talent, press, and more. It's an opportunity to discuss the industry, showcase upcoming film slates from various studios, and present various technological advances in the theater industry.
In short, this is like Comic Con, but strictly for movies and devoid of fans. So, less cosplay and toys, way more emphasis on movies and popcorn. Not a bad deal at all. To top it all off, everything takes place at Caesar's Palace, which also does not suck.
This year, we'll have a full crew in tow to cover anything and everything that drops, providing articles, presentation reaction videos, and talent interviews. So, why should you care? Well, for a number of reasons, really. For one, it's continued to grow bigger each year with more studios putting their time, talent, and focus into CinemaCon than the age-old go to of Comic Con, which has grown expensive and continuously finds leaks hitting the Internet the minute a Hall H panel is over. Not so with CinemaCon, as it's not open to the public and any press covering must adhere to the presentation guidelines. This means they can show a lot of cool shit without having to worry about it leaking onto You Tube before the presentation is over
With that, here's a bit more info on what to look for next week from us (and from the event itself), as well as how and where you can find the info!
1) STUDIO PREVIEWS - This is "the show". This is where individual studios will present their upcoming slate with exclusive, never-before-seen previews, trailers, sneak peeks, and sometimes full scenes and extended looks. It's also become a fun hub to drop some cool news (as Sony did last year with the Spider-Man: Homecoming title, etc.) about upcoming films as well as newly announced projects for the first time. While some trailers may well find their way online just after the presentations, many will not, which is where we'll do our best to discuss and articulate what we saw and what we thought, trying our damndest to get you as close to the action without being there. We already anticipate Dwayne Johnson's first trailer for JUMANJI to hit here (and likely online after), but there's sure to be TONS more info to flood from the halls of the palace over the next week.
Thus far, we're planning on presentations from Fox, Sony, Disney, Warner Bros., Paramount, Universal, Lionsgate, Focus, STX, and Amazon Studios, so prepare for an onslaught of info. Here's a look at a reaction video from last year. This year, our own Sean Wist will be joining me, so we can tag team this movie news match-up for the reaction videos. We promise not to swear. Too much (maybe).
2) SCREENINGS - Last year they screened CAPTAIN AMERICA: CIVIL WAR and this year looks to have a couple early looks as well, incuding PIRATES OF THE CARIBBEAN: DEAD MEN TELL NO TALES and the Ryan Reynolds/Samuel L. Jackson actioner THE HITMAN'S BODYGUARD. There's always the possibility that another one could pop up, but those are the ones we know about for sure. However, any and all reactions/reviews for these will be contingent on studio embargo, so we'll see how that shakes out. Don't get mad if you don't hear anything about them right away as we certainly have to play by the rules.
3) INTERVIEWS - Last year we nabbed a ton of interviews with the likes of David Ayer, Russell Crowe, Samuel L. Jackson, Jeff Goldblum, Teresa Palmer, Megan Fox, Anna Kendrick, Zac Efron, JJ Abrams, Simon Pegg, etc. This year there's a ton of talent showing up, including Ben Affleck, Charlize Theron, David Leitch, Colin Trevorrow, Naomi Watts, Gary Oldman, and TONS more (with many surprises to be sure). We'll be fighting our way onto the carpet and more to talk to as many cool folks as we can, so keep your eyes peeled for those. All of these will go up on our YOU TUBE page, along with any breaking trailers released to the public, so make sure you're subscribed over there to get the latest and greatest as it drops.
4) SOCIAL MEDIA - So, you want to keep up with us minute-to-minute? Then, by all means do so! You can follow the official JoBlo.com Twitter account at @joblocom for all live Tweets of Studio Presentations and you can follow my personal account for any side shenanigans while there at @arcticninjapaul
We'll also be posting photo galleries and links to articles/videos on our Facebook page and may even venture into Instagram. No matter what, though, we'll be keeping the info flowing for as long as there's info to flow.
5) FUN! Yes, it's true, this can be a cool job. Even though we'll be busting our asses (and believe me, there will be no rest until this thing is over) you can bet all your chips that we'll enjoy ourselves as much as possible throughout the event. In the end, we're all fanboys and girls and the main draw to even covering cool events like this is to soak it all in as fans first and foremost, so that we can deliver the news and experience to you guys in a way that you'd want to experience it if you were in our shoes. Hopefully, we're able to do that.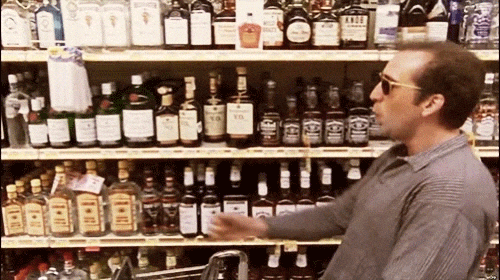 So, keep an eye out for our CinemaCon banner on the main page and our rollout of coverage starting next week. CinemaCon kicks off on Monday, March 27th and runs till Thursday, March 27th. So, make sure to Like, Subscribe, Follow, etc. to keep up with us on this little movie-filled journey to CinemaCon in Las Vegas. Also, we may set up a GoFundMe Page for bail money. For "reasons".
And now, my shortest interview EVER (when you only get one question at the end of the press line)...